Amikom-AKRB Establish Cooperation with UiTM Malaysia
Rep: Wahyu Suryana/ Red: Fernan Rahadi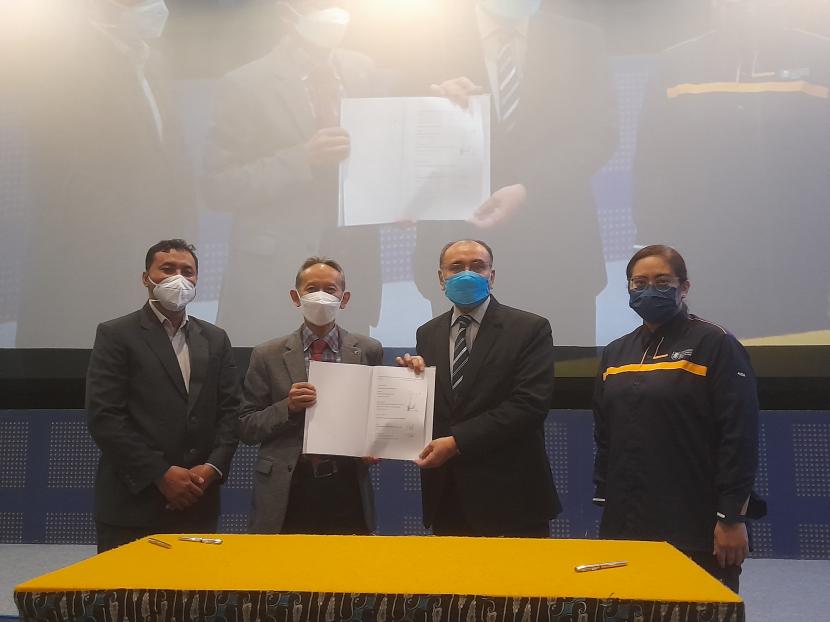 The signing of the collaboration between Amikom University Yogyakarta and Universiti Teknologi Mara Malaysia. | Foto: Wahyu Suryana
REPUBLIKA.CO.ID, SLEMAN -- University of Amikom Yogyakarta and Radya Binatama Communication Academy (AKRB) Yogyakarta collaborated with Universiti Teknologi Mara (UiTM) Malaysia. This collaboration focuses on developing creative industries.
The Director of AKRB, Arif Budiman, expressed his appreciation to Amikom and UiTM for allowing AKRB to participate in this collaboration and cooperation. He believes, in the future, this cooperation will be a beginning of good development.
He hopes that next year they will be able to conduct a comparative study at UiTM. Moreover, this MoU is actually a continuation of the cooperation that has existed since 2017, but was suspended for two years due to the Covid-19 pandemic.
One of the collaborative programs that had been running was an internship, which had also allowed students from UiTM to take part in the production process at AKRB. Arif hopes that such programs can be continued in the future.
"This collaboration can increase the synergy of the work of lecturers and students, so it triggers lecturers and students to produce quality works that are appreciated by the community," said Arif in the Cinema Room of Amikom University, Friday (27/5/2022).
Rector of Amikom University, Prof Suyanto said, Amikom has four professions that are targeted to be achieved by graduates. Starting from professionals, scientists, entrepreneurs and artists. So, Amikom graduates can choose their focus.
Therefore, all the facilities at Amikom are directed to fully support students into the four professions. Not only domestically, Amikom encourages students to go directly to the tight competition in the global market.
For example the film Ajisaka, which last week was published in the big Hollywood media, Variety. Currently, Ajisaka and Battle of Surabaya, which is Amikom's original work, are still performing at the Cannes Film Festival at booths owned by California Pictures.
He explained that there were already three distributors who were interested in distributing Ajisaka's film. In addition, Suyanto said that two Italian football legends, Alessandro Costacurta and Paolo Maldini, had teamed up to become co-producers for the film Forza.
"Forza is a film about poor children from Yogyakarta who can join AC Milan. Indonesia and Malaysia have rich cultural backgrounds, just give them an international touch, so they will become works of international class," said Suyanto.
Prof Zaini Abdullah from UiTM agreed that creativity and change are indeed the right path to transformation today. Therefore, it becomes very important if universities are able to think about this to be better.
He argues, universities must think of a change strategy that can be implemented. One of them is combining related resources to become a stronger institution in order to spread the benefits.
Zaini believes that this collaboration will increase the ability to produce graduates who are able to be accepted by the market, both as employees and as entrepreneurs because they have the skills needed.
According to Zaini, the collaboration between Amikom-AKRB and UiTM is very relevant and appropriate. Moreover, the international recognition and global partnership that Amikom has so far can become increasingly important in opening up space and opportunities. "I am very impressed with the outcome that Amikom can deliver," said Zaini.